Studies have shown that toddlers between the age of 1 and 4 are accidentally injured within their homes. Yes, you read it right. While you may worry about violence and accidents to happen outside, it is imperative not to neglect one of the biggest threats to your child's security and welfare – your own home. Thus, child proofing your home before your precious one arrives and before he begins to crawl and walk helps you protect your toddler from unforeseen danger.
Advantages of Child Proofed Homes
A child proofed home can keep your toddler safe and sound. Toddlers, being naturally inquisitive can snoop out of their parents' watchful eye and touch anything and everything they can get their hands on. Some of these escapades lead to accidents. By using the following physical modifications, you can shelter your toddler from any harm.
Outlet Sockets

– to cover up electrical outlets, safeguards your little one from putting his finger into them

Corner Cushions

- to secure tables and cabinets with sharp edges

Cabinet and Stove Latches

- to lock the oven (and prevent scalding due to the burning plates ) and secure cupboards with hazardous items

Door Knob Guard

– to alarm you if in case your toddler attempts to open the door

Child Safety Gates

– to keep your toddler from going down the stairs or from entering certain rooms in which there are threats of getting injured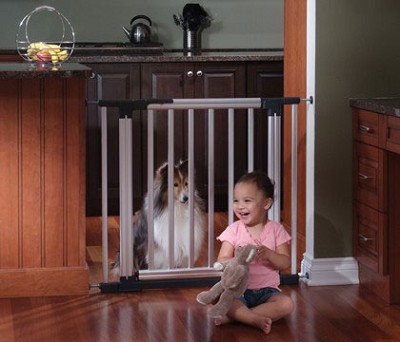 Not only do these child safety products trim down the risks around your home but they are also favorable to the whole family's needs and standards.
Help You Prepare For An Emergency
A child proofed home serves as good training for unprecedented circumstances. Since you already know the right products to use for your home, you instantly get basic help. Door knob guards, security alarms and child safety gates come with a how-to handbook that also instructs you what to do in case something inevitable happens. A toddler-friendly house gives you a clearer perspective and a clean outlook helping you organize first-aid essentials like stocking up your first-aid kit and encoding emergency hotlines (hospital, ambulance, 911, fire department, poison control center, etc.) into your cell phone and home phone.
Give You Peace of Mind
Running after your toddler in the playground is stressful enough. By child proofing your home, your toddler gets a safe abode where he can freely explore and enjoy his environment. This gives you the chance to relax. You no longer have to worry every now and then if your toddler's tiny fingers get stuck in the cabinet or if he puts something inside his mouth.
Organize Your Home
Toddlers are not the only ones who can benefit from a child proofed home. With the help of these safety tools, you are encouraged to keep unnecessary stuff at bay which keeps clutter from lying around the house, providing you a clean, spotless home at the same time.
A child proofed home creates an environment that is safe. But do keep in mind that it will not eliminate childhood injuries, it can only reduce the chances of them from occurring. So it still pays to stay alert and be more cautious.