Once your toddler is big enough for his crib, transitioning him to sleep in a toddler bed will help him sleep more comfortably. However, since your toddler is very active and giddy during this stage in his life, he can easily stumble and fall off the bed. To prevent accidents from happening, attaching toddler bed rails to his bed is the best solution.
What are toddler bed rails?
Toddler bed rails secure your toddler's safety especially at night when he sleeps alone in his bedroom. These bed rails are made to fit in between the bed mattress and a box of spring often forming an L-shape. They are like fences that serve as a barrier to help safeguard your toddler from scaling the height and heading over the rails. They eradicate the fear of any accidents that usually take place in the middle of the night due to active unconscious movements. Hence, it eliminates your toddler from the risk of getting bumps, bruises and other major injuries.
Different Types of Toddler Bed Rails
There are different styles of bed rails for every type of toddler bed. The following are:
Convertible Crib Bed Rails
If you have chosen a convertible crib as your toddler's bed, you might notice there are no built-in bed rails attached to it. A convertible crib bed rail made from mesh or wood materials can give ample bed side protection to your little one. Rail measurements are usually 33 inches in length and 13 inches in height. These are perfect for toddlers from ages one to three.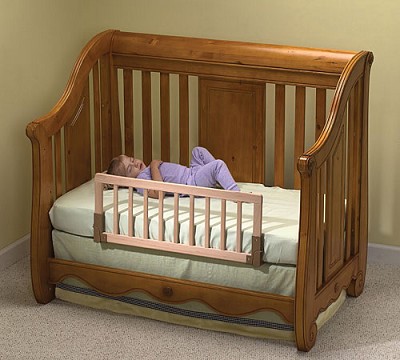 Double Bed Rails
If his bed is positioned in the center of the room, a double bed rail will help keep him protected during bed time. They are foldable and can be easily fastened by using the plastic axles and straps between the box spring and mattress.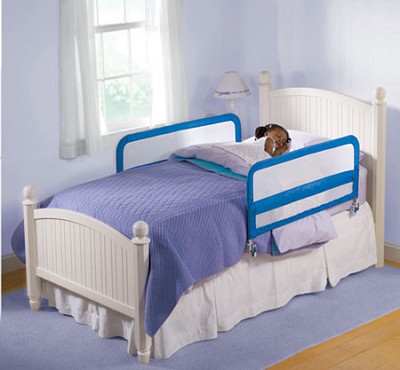 Mesh Bed Rails
Mesh rails are made from soft artificial materials. However, they are not recommended for toddlers below six years old as toddlers can easily roll on the side and stick their faces into the mesh that can cause suffocation.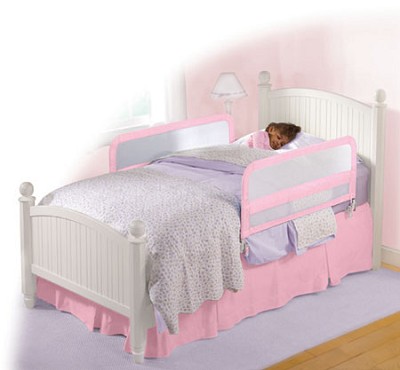 Mounted Bed Rails
If your toddler wants to sleep on a regular bed, mounted bed rails will give him 100% security since this type of toddler bed rail is very safe and snug as the rails will never fall off. These bed rails are installed on his mattress frame using easy-to-use ratchet tools. Rails come in two styles - a bendable mounted bed rail that helps your toddler easily climb in and out of the bed and a hide-away extra long mounted bed rail that can accommodate a double, king, queen or twin sized bed. Mounted bed rails are perfect for toddlers from ages three to six.
Standing Bed Rails
Standing bed rails are tall and can stand on the floor touching your toddler's bed. These are the sturdiest and most secure type of toddler bed rail as the rails do not easily fall off with a toddler's push. Standing rails are ideal for young toddlers (from 10 to 15 months).
How to Choose A Perfect Bed Rail
Get The Correct Measurements
Measure the depth and height of his bed with a measuring tape to get the correct dimensions. If you buy bed rails that are too low, he can easily squirm his way out. If you buy rails that are too high, he can get stuck in between the edge of the bed and the rails. The bed rail should be situated to level your toddler's shoulders when he is lying down. There must also be a space between the headboard and foot board to prevent him from rolling off into the gaps.
Toddler bed rails must be durable and constructed from the sturdiest materials. It must be able to keep up with your child's energy. Always go for bed rails with padding's to give extra protection in case he bangs himself. Look for different features that are present in every bed rail and compare. An easy to install, portable and durable bed rail can last a long time.
Also, do not buy bed rails that are too noisy and hard. Instead, go for a toddler bed rail that makes no noise and those with rounded edges. A bed rail with round edges is elastic but firm which is perfect for your little one if he habitually falls off his bed.
A toddler bed rail is like a profitable investment. This tool keeps accidents at bay promising you and your toddler a good night's sleep throughout the night.