High chairs are one of the most essential toddler gears. Aside from feeding toddlers, they serve as an excellent tool to help keep your child entertained in the kitchen with you. With the different brands of toddler high chairs available, picking the right one can be overwhelming. To narrow down your search, here are five well-loved brands of toddler high chairs along with their corresponding best selling chairs.
1.Chicco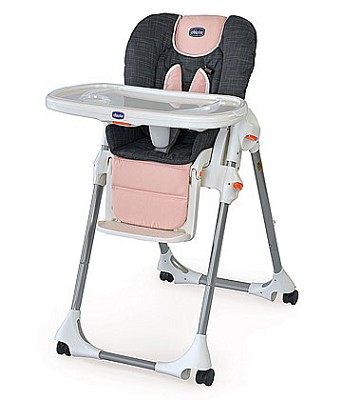 Chicco high chairs were patterned to fit every stage of a growing toddler. Their high chairs are fully padded and secure which enables your toddler to enjoy meal time with the whole family like a regular adult.
Polly High Chair Double Pad
Has wheel brakes and a 5-point harness.
Its bright, easy to spot colored buttons makes it easy for parents to adjust the chair.
Has phthalate free vinyl pads.
Slimmest folding high chair.
3 reclining positions and 7 height positions for added comfort.
Has built-in storage net to keep your toddler's essentials handy.
Comes in 22 different colors.
Chicco 360 Hook On
Booster seat perfect for traveling.
Has rubber table fastenings for easy and safe attachment to thick tables.
Comes with a snap-on serving tray for meals.
Compact fold and its plush carryall makes travel and storage hassle-free.
2.) Fisher-Price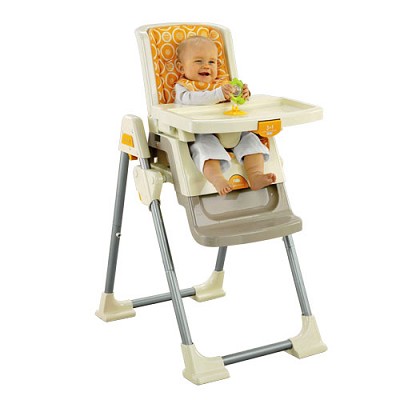 The most popular brand of toddler gear, Fisher-Price boasts different high chairs each with a unique feature. All of their high chairs have met the following standard safety features – adjustability, an easy to clean chair, locking device, stability, straps and a chair.
Rainforest Healthy Care High Chair
Comes with a clip-on rainforest toy with activating lights, music and sounds to keep your toddler entertained throughout his meal.
Stimulates your toddler's senses boosting his cognitive and motor skills.
Space Saver High Chair
A high chair that fits into any dining or kitchen chair, especially made for homes with small dining spaces. Just strap it in and you're good to go.
With 3 reclining positions and 3 height adjustments.
Can be easily stowed when not in use.
Converts into a booster seat (ideal for trips).
Has a padded full-size seat that is spill resistant.
3.) Graco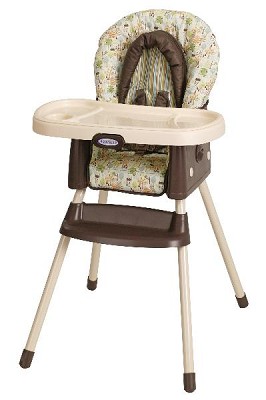 Undeniably one of the most trusted manufacturer's of toddler gear, Graco has an extensive selection of high quality high chairs. Graco offers full-sized and portable high chairs so parents can exactly find what they are looking for.
Blossom 4-in-1 Seating System
Designed to adapt to a growing toddler's seating needs.
Accommodates two children at the same time.
Effortlessly transforms into an infant feeding booster, toddler booster and a youth seat.
Has 3 recline levels, 6 height positions and a 3-position adjustable footrest.
Its head and body support helps keep your toddler comfortably seated.
Comes with a 3 to 5 point harness for maximum security.
Seat is fully padded that can be machine washed.
Removable and washable one hand tray.
DuoDiner High Chair
A 3-in-1 high chair that transforms into a booster seat by simply removing the legs of the chair.
Frame can be easily stored when in booster mode.
Its 3 position one hand adjustable tilting seat sustains your toddler's head and body.
Has a changeable 6 height position feature to help comfortably position your toddler at the table.
Toddler Booster
A portable booster seat with 2 seat installation belts that is easy to hook on any chair.
The modifiable seat back insert assists in situating your toddler a comfortable distance from the table.
Available in 3 colors – blue, brown and pink.
4.) Inglesina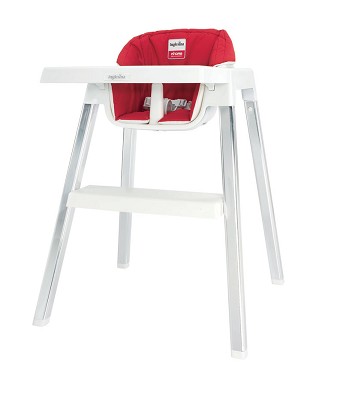 Club High Chairs
Best for toddlers between ages 1 to 3.
A single position chair that provides utmost stability.
Easy to clean, comes with a removable tray.
An elegantly designed chair available in colors graphite, orange and red.
Zuma High Chairs
Easy to clean and portable.
Combines form and function with its modern appeal and superb features.
Comes with an extra tray that is detachable and dish-washer safe.
Compact fold for easy storage.
Has 3 reclining backrest for eating, napping and playing.
Available in cream, lime, red and orange.
5.) SweetSeat
A booster type seat perfect for toddlers who are too big for a high chair yet are too small to reach the top of the table.
SweetSeat booster seats are designed to sit on top of a dining chair.
Covered in child-friendly and food-safe laminated cotton making them easy to clean.
Steady, dense and transportable.
Comes in various colors and designs, perfect for fashion conscious moms.